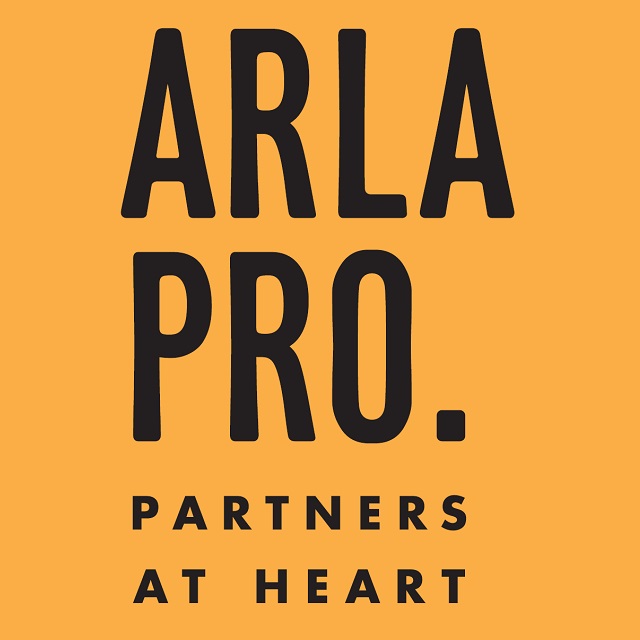 Welcome to Arla Pro, the dedicated foodservice business of the global dairy co-operative Arla Foods. Every day we deliver high quality natural dairy ingredients created specifically for chefs and kitchen professionals around the world. We are proud to introduce an exciting new range of dairy ingredients. This new range of Arla products has been created to work brilliantly back-of-house, giving chefs the freedom to cook without worrying about quality or performance. Excellent dairy products, a culture of innovation and outstanding professional service. This is what chefs can expect from a relationship with Arla Pro.
Company
Sector: FOOD SERVICE, DAIRY
Subsector: Cafés, Catering, Restaurants, Butter, Cheese, Cream, Milk & Milk Products
Brands List
| Image | Brand name | Description | Country |
| --- | --- | --- | --- |
| | Arla Pro | Arla Pro is our product brand for kitchen professionals. The Arla Pro range consists of natural, high-quality products that have been selected and developed specifically to add more value for professional customers. | Saudi Arabia |
| | Lurpak® | Lurpak® is one of the world's famous butter brands. Its roots go back to 1901 when Danish dairy farmers and their cooperative dairies joined forces to protect their quality butter under the 'Lurpak' trademark. | Denmark |
| | Puck | The Puck® brand started as a spreadable cream cheese in Germany, but was launched in the Middle East in 1983 with a selection of processed products, primarily cheese. In 1988 the main product, spreadable cheese in jars, sold more than 1000 tonnes. Since then, Puck® has become one of the region's leading dairy brands | Saudi Arabia |
| | Kraft | Kraft cheddar cheese has a very rich heritage and is an established brand in the middle east for almost 100 years. Generations of consumers have grown up trusting and choosing Kraft as their preferred brand of cheddar cheese. | Saudi Arabia |
| | Castello® | Our tasty Castello® cheeses have a history that goes back to 1893. We are proud of our genuine craftsmanship that lives on today, more than a hundred years later. | Denmark |
Product List
Image
Product name and Description
LURPAK® Soft Butter, 5KG
With a lighter flavour and clean aroma, Lurpak Soft is a premium butter blend made with butter and Rapeseed Oil. It has the ability to deliver the essential properties of butter but with enhanced functional benefits such as a soft texture, shorter thawing time and quicker mixing time. Lurpak Soft is not only easy to handle but is also highly-versatile to be used across a wide range of culinary applications. Lurpak Soft is the ideal butter blend for kitchen professionals.

Arla Pro Whole Milk Powder 25kg
Instant milk powder with natural source of vitamins can be diluted in both cold and warm water. With long shelf life and convenient storage options, the product is the ideal source for liquid milk in the kitchens. Use it to make plain milk, yogurt or in cooking and baking needs.

Puck Cooking Cream, 1L
With the ideal fat percentage for cooking applications, this unique cream is perfect for cooking, blending or pouring applications in the kitchens. With excellent coating abilities, the product is also high heat stable and does not curdle in hot applications.

Arla Pro Cream Cheese Soft, 1.5kg
100% Natural Soft Cream Cheese is a prime choice for everyday breakfast and snacks. They combine perfectly with soft breads, crispy toasts and bagels. Natural Soft Cream Cheese is made exclusively from 100% natural ingredients with no preservatives, colourants or other unnecessary additives. Ideal for both desserts and for cooking applications. Use it for the best quality cold cheesecake, frosting or in cooking.

Arla Pro Natural Cream Cheese, 1.8kg
Natural cream cheese block with 34

Arla Pro Thick Shredded Mozzarella Cheese, 2kg
Individual quick freezing: IQF Locks in the perfectly aged mozzarella for an exceptional pizza experience every time. Perfect Freeze is good for business Melting, stretching and browning to perfection – for a pizza experience loved by chefs and consumers alike.

Arla® Pro Pizza Cheese Block, 2.3kg
Arla® Pro Pizza Cheese Block is high-quality mozzarella in a flexible block format. The cheese has a mild taste, a delicate aroma and good melting performance. Ideal for both deep pan and thin dough pizzas – and a great choice for chefs looking for versatility as well as flavour and functionality.

Arla Pro Whipping Cream High Stability 35%, 1L
Pure dairy cream with 35

Puck Whipped Cream, 250g
Perfect with all desserts! Top it on anything to perfect it cakes, brownies, ice creams & is the pancake's best friend!

Kraft Cheddar Cheese Spread 930g
Original Kraft Cheddar Cheese Spread offer the easiest way to enjoy the unique creamy taste any time during the day. Simply spread and enjoy for breakfast, as a sandwich or a snack.

Castello - Speciality Cheese
Arla has been producing world famous Castello Danablu for more than 120 years. Resembling Danish royal porcelain, Danablu enchants with tones of mild bitterness and salt. The flavors are pungent and sharp, with a creamy and smooth texture. Perfect addition to your dips, salads or cheese platter.

Arla Pro Milkshake Mix 2 L
Easy to work with making delicious and refreshing milkshakes.

Arla Pro Cheese Slices
Arla Pro Original Cheese Slices is the touch that gives your different meals and sandwiches the creamy and rich taste that shines through your dishes. Perfect for burgers, steak, chicken, tacos and other recipes.

Arla Pro Processed Cheese Spread, 1100g
Arla Pro spreadable cheese, is a trusted go-to products for breakfast dishes. produced with natural milk coming from our farms in Europe, it will add well balanced dairy taste and acidity to your savoury dish, sandwiches or dips.

Arla Pro Unsalted Butter 25Kg
It takes 20kg of milk to produce every 1kg of butter. Only the most carefully selected and ripened cream is used in the butter making process. Lactic cultures are then giving a fresh aromatic note with an unmistakable creaminess that creates the unique characteristics of Arla Pro butter.

Arla Pro Red Cheddar Shredded 2kg
Arla Pro Red Cheddar is a very versatile cheese and can be used in many application. It has great meltability and comes in shredded ready to use. Can be used for pizza, lasagne, burgers, gratin meat and vegetables, or as topping for salads, vegetables and meat dishes.